ABOUT ME AND BIKES I'VE OWNED
>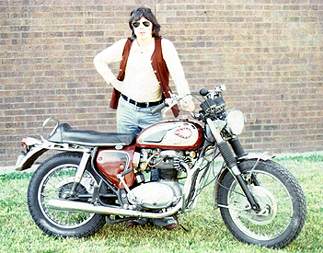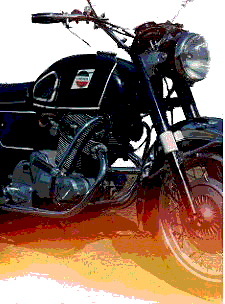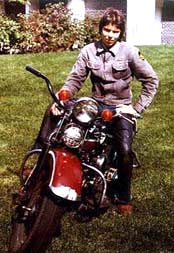 Left: 1975, with souped up 1969 BSA. Middle: My 1970 Laverda (American Eagle 750) circa 1973. Right: 1976 with my 1941 H-D U (1200 sidevalver). All photos were taken in Toronto with my camera.
Greetings! I am a biker as well as an artist, a lawyer and a sometime demographer/market researcher. I attended secondary school in Niagara Falls where my first bike was a '52 Matchless G-80S basket case which I put together into a chopper. Below is a shot of me and Kay Burkman (who I had a big crush on in High School 18 months prior) in the Fall of 1966 at the University of Toronto where she attended.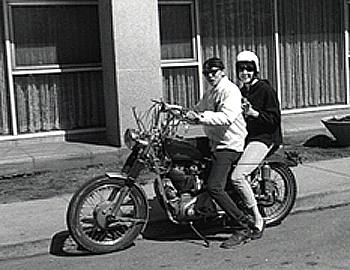 While I was finishing the Matchless on a daily basis in High School I bought an Indian Four rolling chassis and a '37 H-D 80 CID with seized engine and no wheels, neither of which I ever got around to doing anything with. Then with youthful Hog Fever I bought a 1950 H-D EL - see photo below - which was so slow you could call it a walker rather than a runner (which was a good thing since the brakes were useless
then a daily rider '67 Honda 450 - see photo below taken before I installed a Norton N-15 fuel tank,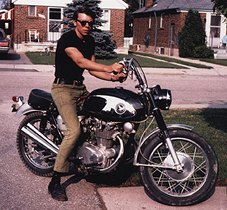 then a 1947 Indian Chief - see photo below - which had the famous "BDR" (for Black Diamond Riders) engraved under he seat. (If you watch the original Blues Brothers movie you will see that the licence plate on the car they use to drive home from prison early in the movie has BDR on the licence plate! Dan Akroyd is a Hog rider and familiar with the Ontario biker scene.) I chopped the Chief as that was all the rage circa 1968-70. The 1941 U you see above ran fine and needed little to restore. I bought it from a former Black Diamond Rider (precursor to the Vagabonds M.C.) back about 1973.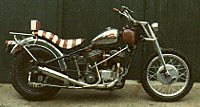 Here is what my 1947 Chief looked like in Dec. 1969 when I had to leave it outside in a small unpaved parking lot all winter in the snow. The rear fender is Norton and the fuel tank is Honda. Seat and handlebars were custom made. Horn was off a bicycle. Oil tank and front wheel are from a 1950's triumph. Generator was VW "bug", with a modified go-kart pulley to drive it. Around the time this photo was taken I actually did ride the Chief a few blocks to the liquor store on snowy, icey Yonge Street. The foot clutch and hand shift made it even more challenging. The Chief would always start on the 2nd kick no matter how cold the temperature, even with the oil so thick the kickstart lever was barely moving down!
Below is my brother and I in Montreal about 1990 posing with his restored WWII Chevrolet 3 ton Canadian army truck. Since this photo was taken he installed a tarp on the back, finished the very last detail of the restoration and painted it olive drab with D-Day markings. Note the right hand drive to conform to British specs. It is a pig to drive with its great weight and modest engine (they came with straight 6 cylinder OHV or V-8 flatheads). The brake and throttle pedals are reversed (clutch is as normal to the far left but the middle pedal is the accelerator and the far right is brake, thanks to some idiot in Britain who designed the controls.) Driving this beast takes a lot of effort and concentration, and shifting gears requires "double clutching". This truck has since appeared in the Ottawa 50th anniversary D Day celebration parade and several movies and TV shows. Marc's worst problem was getting the correct tires as the English and American trucks used slightly different tire sizes than the Canadian ones, and no one makes reproductions of the Canadian ones. He has since sold the truck and now has a UN "jeep".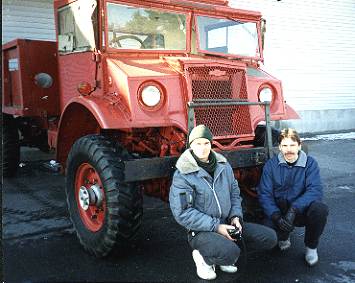 After a week of stressful litigation I like to unwind on summer weekends. Below is me in 1995 in my 1971 Jeepster Commando 4X4 (precursor to today's luxury SUV's) getting ready to tow my '74 Ducati 450 and '63 AJS 650 (both since sold) to a rally. The engine was the stock Buick V-6 and Chev automatic transmission except the ignition had been updated to "electronic" and I had dual exhausts installed. Had power steering but not power brakes. The top was removable by several bolts and nuts.Since this photo the Jeepster had a new floor installed and professional body work done to its rear end but was rusting away in its rocker panels and (front) fenders, so I sold it for $250 to a collector, stripped, and am selling the doors and tailgate and other bits on Ebay.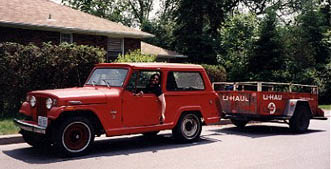 I have also owned a 1979 Commonwealth Games (Edmonton) police FL which I bought in Edmonton about 1983 and as it was slow like my 1950 EL only with the addition of a bent frame and a deafening top end knock and a tendency to stall for no reason for a long time, I quickly traded in for a 1980 FLT from a Calgary H-D dealer. (See photos below). The 1980 was fine for a couple of years until the rear brake covered itself with brake fluid in the middle of the Rockie mountains 250 miles from home (even with no rear brake I made great time and beat another Harley home), and the front caliper fell off in Vancouver the next day, and prior to all this the starter motor kept running even after the engine started and even after I turned off the ignition (forcing me to spend five minutes removing the saddlebag, accessing my tools and removing the battery cover to disconnect the battery while the starter motor emiited smoke). That was always good to attract a small crowd. The Harley dealers were happy to take hundreds of dollars from me to not cure the problem so I sold the bike. (Later learned it was a design defect from 1965 through to about 1984!)
Below is me in 1986, just after completing law school in Victoria, on my 1980 FLT: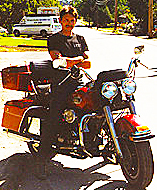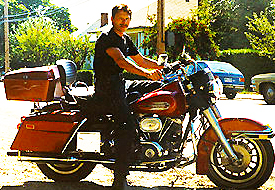 Conmpare photo of me in 1968 on Honda to above in 1986 on Harley. Yes, my physique was as good after nearly twenty years. That's because I was seriously into weight training in 1967-68 and during law school 1984-86. I stopped using weights after the summer of 1968 when the psychedelic era offered much more interesting mental and musical and travel experiences. I spent six months in Europe in 1969, got really out of shape in 1969 -71 so started weight training again and ended up looking like this while in sociology graduate school circa 1972.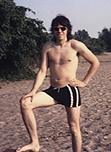 Speaking of 1972, below is my 1972 BSA Thunderbolt as it was when I bought it in 1976 and then as it was before I sold it in Y2K. (The 2" over fork tubes and Rocket III tank and Yamaha side panels and custom seat and H-D rear rim and tail light were the main ones, plus the Scottish police 2 into 1 exhaust. I extended the front brake lever arms an inch and had modern linings put in front and rear, but the front brake was still so-so.) Around Y2K I sold this to a lumberjack from Quebec for about $600 (had about $3600 spent on customization and improvements). Would like to buy it back if anyone knows him. He is in the CVMG or at least was then.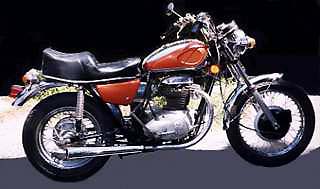 Continuing on, in addition to the 1969 BSA and 1970 Laverda which you've already seen photos of, I have also owned a '59 Triumph sprung hub 650 which I never completed restoring (the front brake and oil tank ended up on my Indian chopper), and a new 1976 Triumph Bonneville 750 (see shot below of me breaking it in at the U. of Western Ontario campus, a private road early on a Sunday spring of 1976, which explains the lack of helmet),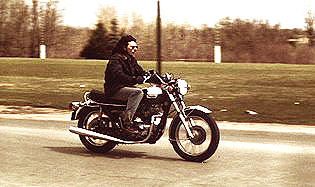 and a few years later a smooth 1976 Hondamatic with 810 cc kit and fairing: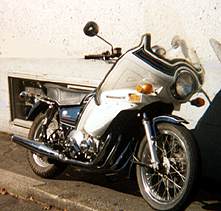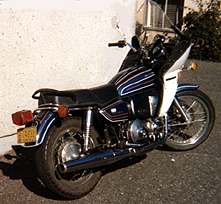 Below is me with my mini-fleet in Edmonton roughly 1981 (41 Hog, 72 BSA with '73 Triumph front end, and '69 BSA):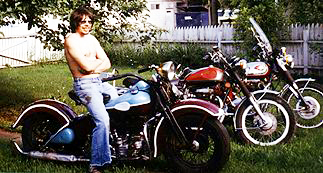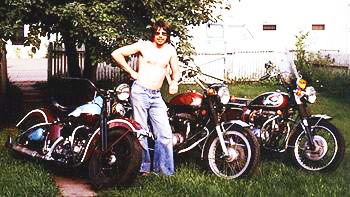 Then from about 1983-96 I owned a 1980 Yamaha XS850 which I set up for touring, and in 1999 a stock '83 XS650 which I rode to Asheville North Carolina, and from 1984 to the late 1990's I owned a '73 Ducati Jupiter street scrambler which I restored, (photos below). I sold all of those bikes before the 21st century.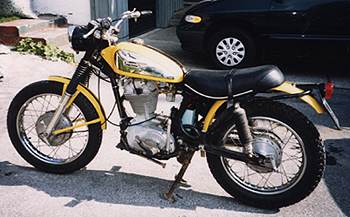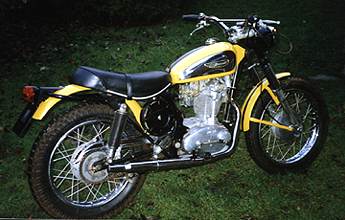 Next is a photo of me (in the red jacket) and Mike Partridge owner of Walridge Motors Ltd., in Mike's shop in the early 1990's looking at some very rare Matchless 750 model G15/45's he had for sale. Only 200 of these were made in 1962 and '63. I ended up buying yet another one he had for sale but I did it the hard way by buying it at an auction in Daytona Florida and trucking it back, running out of money and gasoline on the way and almost falling asleep "at the wheel". A few years prior I also imported from Cincinnati Ohio a '63 AJS Hurricane 650 which I restored for $5000 from a rolling basket case and even got the rare twin carb manifolds. I sold both rare 1963 bikes as a blue and red pair to a lawyer in Sydney Australia.
Another favourite bike was a big white 1983 Moto-Guzzi California II, which I sold in 1996 or so. (See photo below)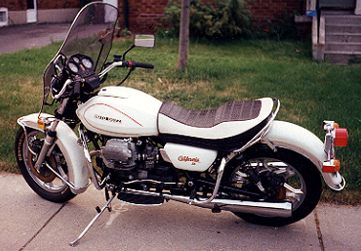 From the summer of 1999 until Oct. 2000 I owned a 1969 Royal Enfield Series II Interceptor which unlike me still looked as it did in 1969. (Compare headshot of me in 1999.) The Series II Interceptors are now considered the best of the British parallel twins (wet sump, no lower frame, separate cylinders, optional oil cooler rad for better heat dissipation, best styling, fast and torquey).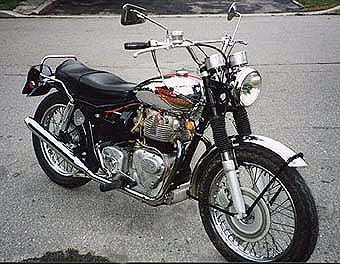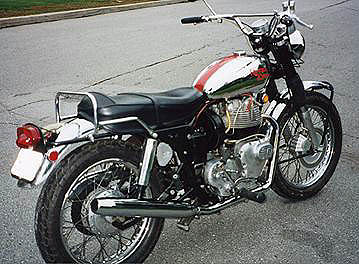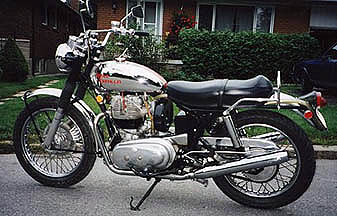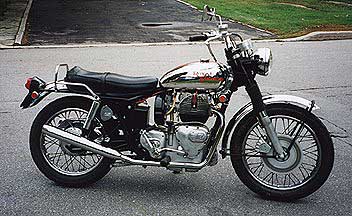 I've always wanted an Ariel Square Four (they sound great!) and a Panther M120 (650 single) and finally bought them around 2014. Below is an image of a Panther 650, circa 1960-65, identical to mine except I do not have the sidecar.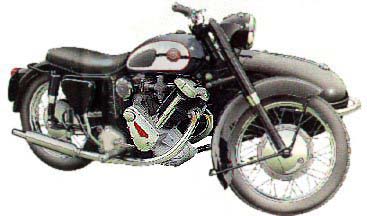 Around the year 2005 I bought a lovely Moto-Guzzi California Special (very similar to the Bassa). Mine is like the one on the image below only metallic blue instead of brown. Best bike I have ever owned. Only problems if 8.5" ground clearance under the oil pan makes for "issues" with low speed turns espcially for somoen like me who has a relatively short inseam. In my own view Guzzi finally got the styling right. Since the debut of the California III some years ago the appearance kept getting worse while the engine kept improving - the handling was always great. Owners love 'em and they outperform Harleys in speed and handling (and I say looks). They sound just as good (I say better) plus they cost a lot less! As of about 2014 they have a new series of 1400 c.c. V twins which I'm told perform even better than the 1100's.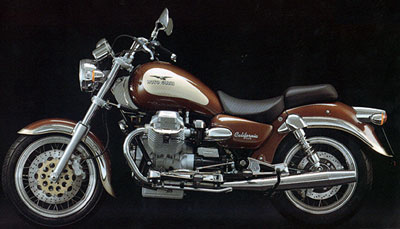 Around the year Y2K, I drove by a Harley dealership and the big sign proudly announced that the Biker Barbie and Ken dolls were in! Are we expected to attach them to our bikes just like the Gold Wing riders attach teddy bears? I remember the days when going into a Harley shop was a far different and much better experience. The customers were mostly tough guys who worked on their hogs during weekends, whether it was routine maintenance, bolting on an accessory or an engine or tranny rebuild. Now the stores are mostly full of clothing, fashion accessories toys and trinkets. Ask where the chain lube is and they treat you like a cheapskate or a dinosaur.
I hope that in this or your next visit to this web site you will read my exciting story about how I rode thru Rocky Mountain goat trails on my 1969 BSA (set up for touring) along with four guys on new BMWs (this was way back in 1978). For 15 years I thought I'd ridden motorcycles but it was only on that saga that I truly rode a motorcycle. There was no comparison to anything before or since. The link is below.